Mattel Creations is a Shopify store that specializes in niche collectibles that resell for a premium. Hot Wheels releases require an RLC Membership to be on the account you are purchasing with. We recommend to prep tasks with the following URL and select a a different account on each task.

Once prepped, start your tasks, and after you've successfully checked out, you will now have an RLC Membership on each of your accounts. From then on, you'll be good for a year to run the Hot Wheels releases. You will only need to do this once a year.

For releases, they have the product page loaded beforehand. All you need to do is copy the product URL, and paste it onto your task. Here is an example of what your task should look like for the "RLC Exclusive Pink Editions Nissan Skyline GT-R" release: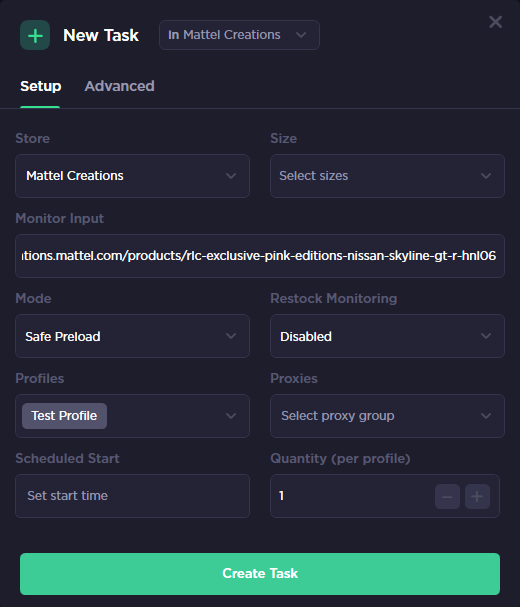 You will always be running "Safe Preload" on Mattel Creations. Make sure that you have your account selected in the "Advanced" tab since this will allow you to purchase the Hot Wheels products due to the membership purchased on the account.

If running multiple profiles/accounts, you will need to run proxies. Mattel Creations throttles ISP proxies, so residential proxies will be your best option. Simply select your residential proxy list from the "Proxies" dropdown in the "Setup" tab.

Once you are done selecting the options, click "Create Task", and you are good to go.

On release day, there will be a queue that builds up. We recommend looking at the "When To Start Tasks" part at the bottom of Getting started with Shopify article to get a better understanding on when to start.

Ensure that you have a few "Shopify Checkpoint" solvers opened with Google Mails logged in to ensure healthy captcha solves at drop time. Checkpoint will be enabled which means that you must solve a captcha for each task that is trying to check out the item.