Many stores require some form of captcha to verify human activity, these range from being needed to simply access the website in general to being able to actually cart and checkout a product – This varies per retailer.
To launch the Captcha Solver simply click the "Captcha Solver" button on the bottom right of the "Tasks" page, once done you'll be greeted with a pop-up like so: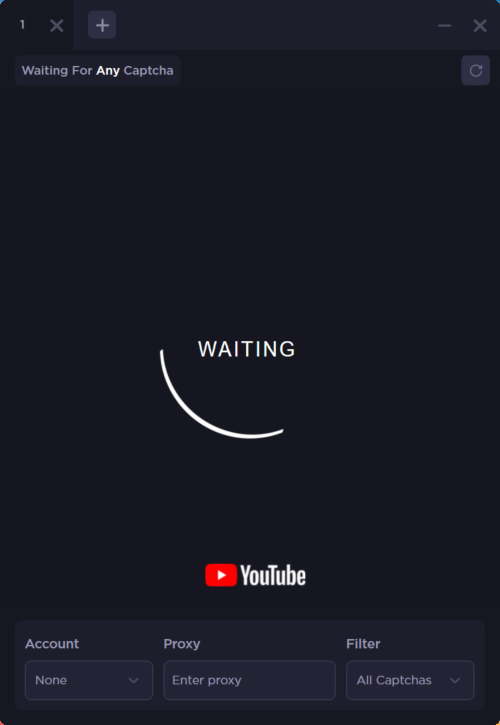 You will need to add accounts via the Settings page (Explained further in the Settings documentation) in order to fully utilize this page. Below you will find a brief overview of the different options available inside the Solver pop-up.
Account: The account you wish to use on the current Solver.
Proxy: The IP address you wish for the account on the current Solver.
Filter: The type of captcha you want the current Solver to display.
YouTube: Clicking the YouTube logo will launch the YouTube website so you can watch videos in-app.
Refresh: You can use the refresh button to go back to the "Waiting" animation or to restart a captcha request if there are any issues.
Cybersole also includes AI-powered captcha solving and question sharing - These are enabled and used by default and nothing is needed to toggle these on however you can disable them if you desire by clicking the settings icon on the harvester window as shown below, however we strongly recommend leaving our AI solving enabled at all times.