Welcome to the Cybersole 5.0 User Dashboard. Here you will be able to create and control tasks remotely, view your analytics, manage your licenses and subscriptions, check changelogs and even keep on top of upcoming releases via the calendar.
First and foremost, we recommend you visit your "Account" page by clicking your username on the bottom left of the webpage and then proceed to configure 2-Factor Authentication for security reasons. On the account page you will also find numerous other useful options, here you can change your password, update your phone number/payment details, view/edit your API keys and manage your license key(s). More guidance on API keys and License management can be found further along in this documentation.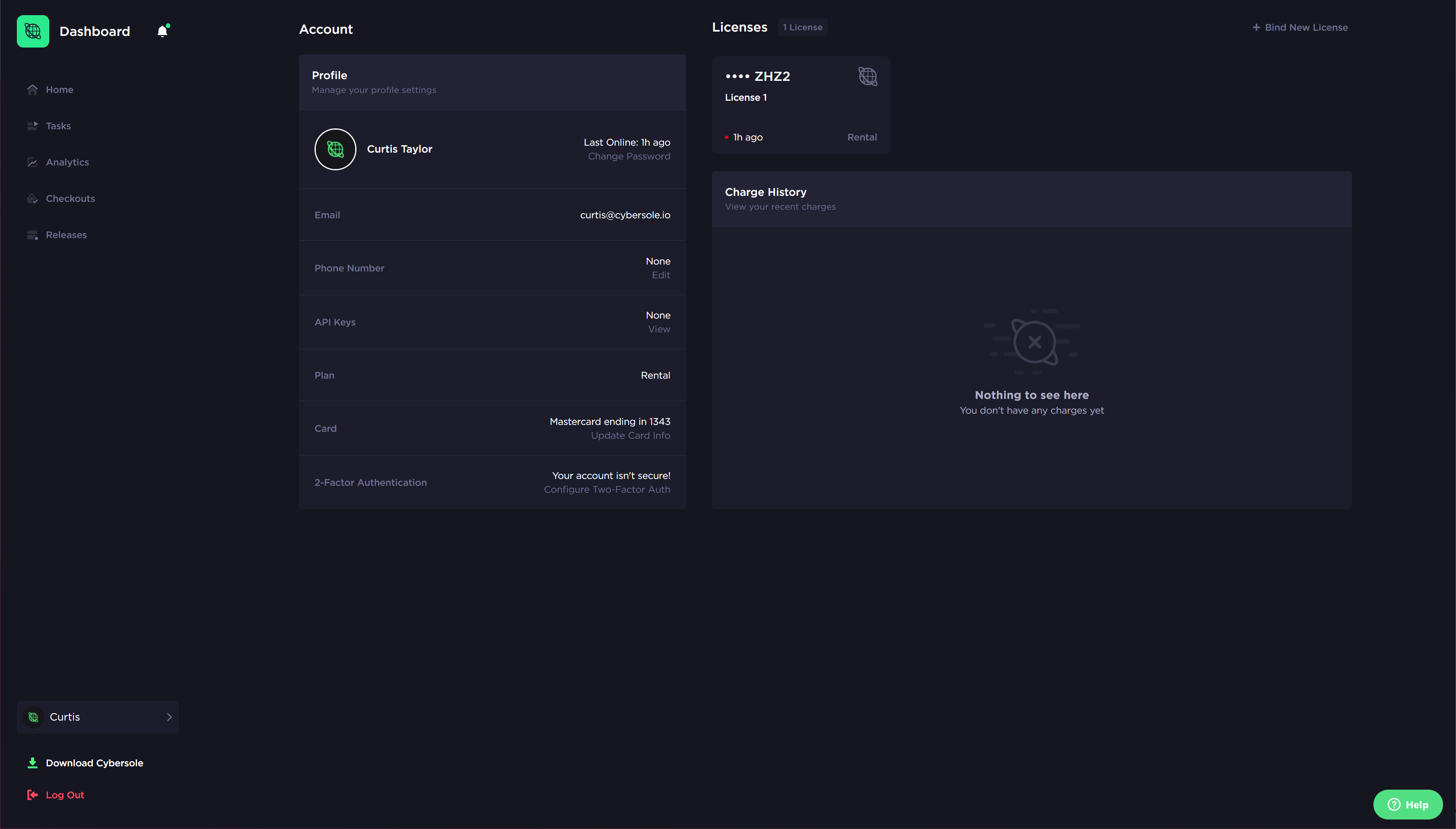 Home
The home page of the User Dashboard is your central hub consisting of changelogs, daily analytics and release guidance.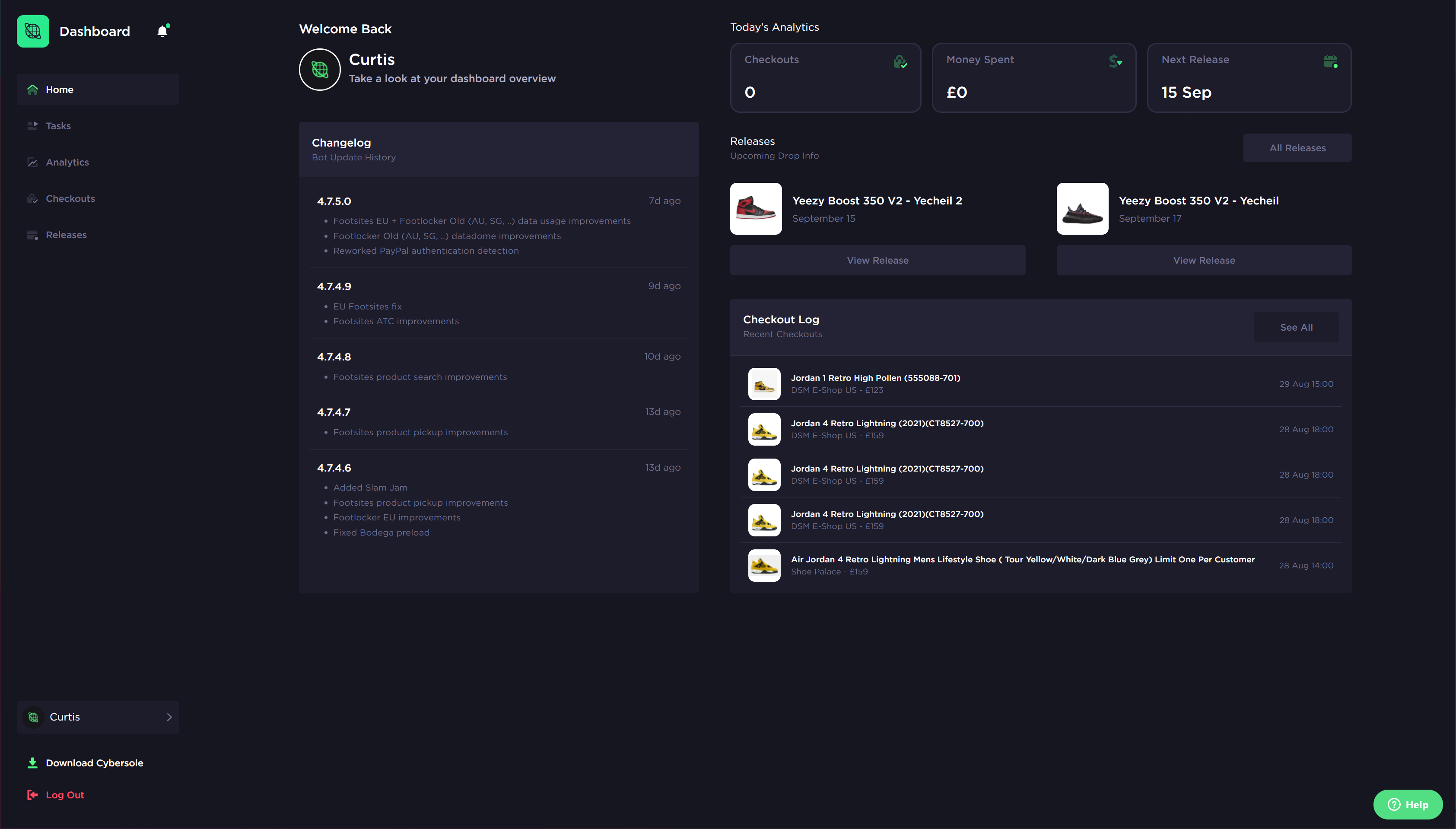 Tasks
The task page allows you to view and search your tasks (per license) as well as issue commands to your bot remotely and even create full tasks the same way you would via the bot itself on your computer or server. Please note in order to utilize this page you will need to ensure you have your Cybersole license key activated with Cybersole open on your computer or server.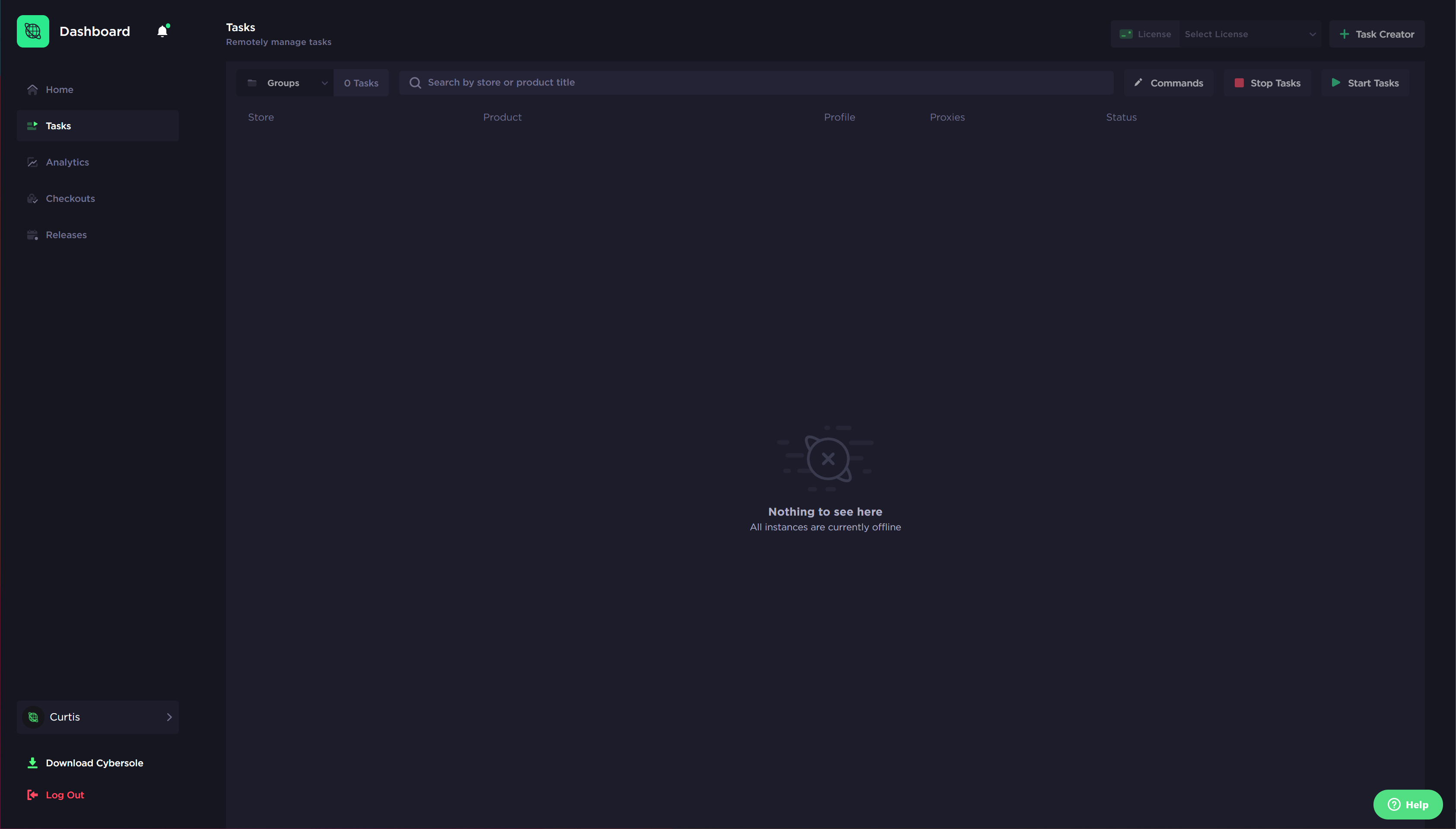 Analytics
On the analytics tab you can filter your success via the tabs on the far right ranging between daily and annual checkouts. You can also view a range of statistics ranging from how much money you have spent to your success ratio and even your favorite stores and products ranked by checkouts.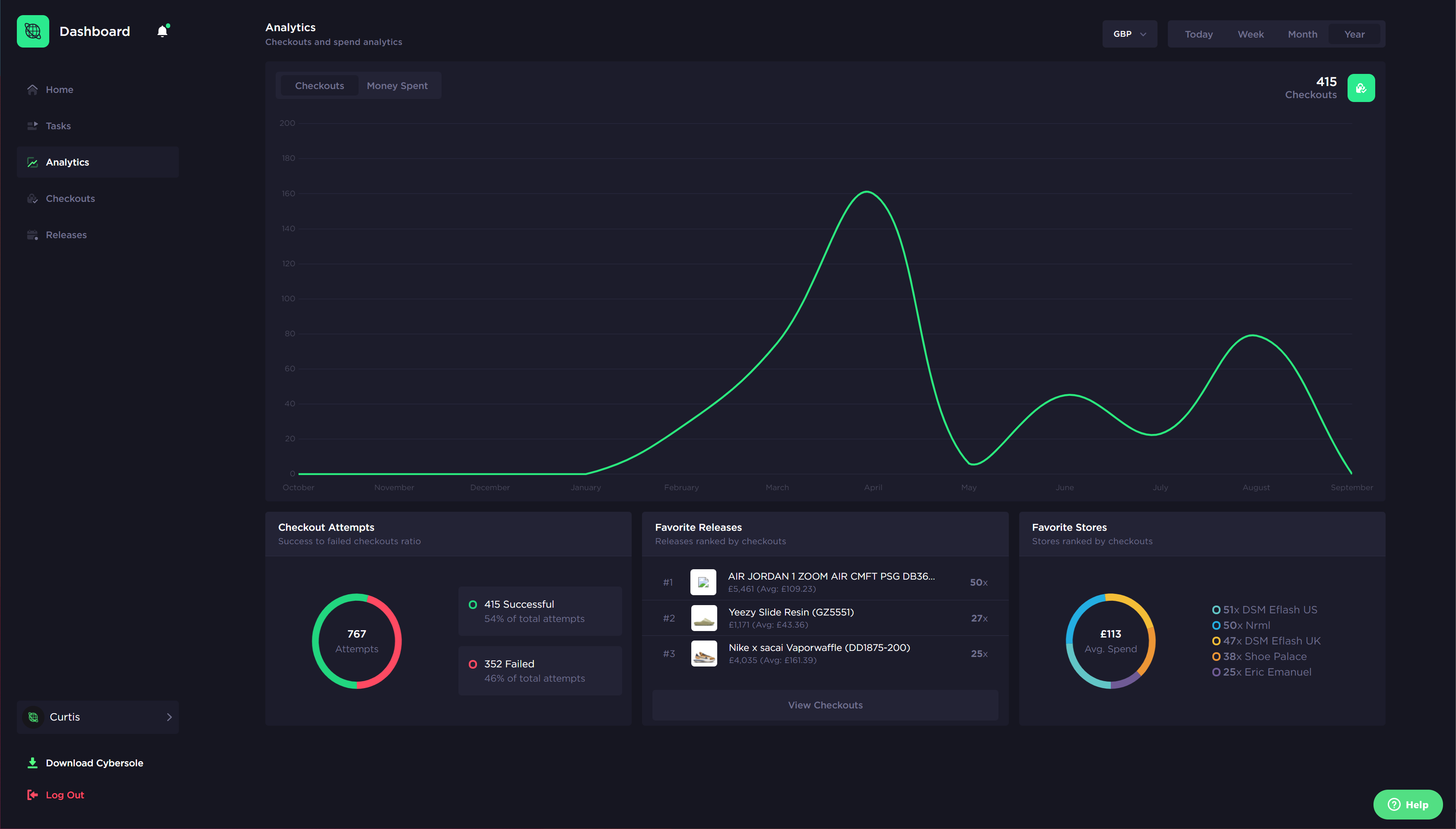 Checkouts
The checkouts page displays your checkout logs in batches of 50, you can increase your results by simply scrolling down and clicking load more, you can also filter by store or product via the search box. On this page you will also find an "Export" button beside the currency dropdown which allows you export all checkouts via a date range or currently displayed results.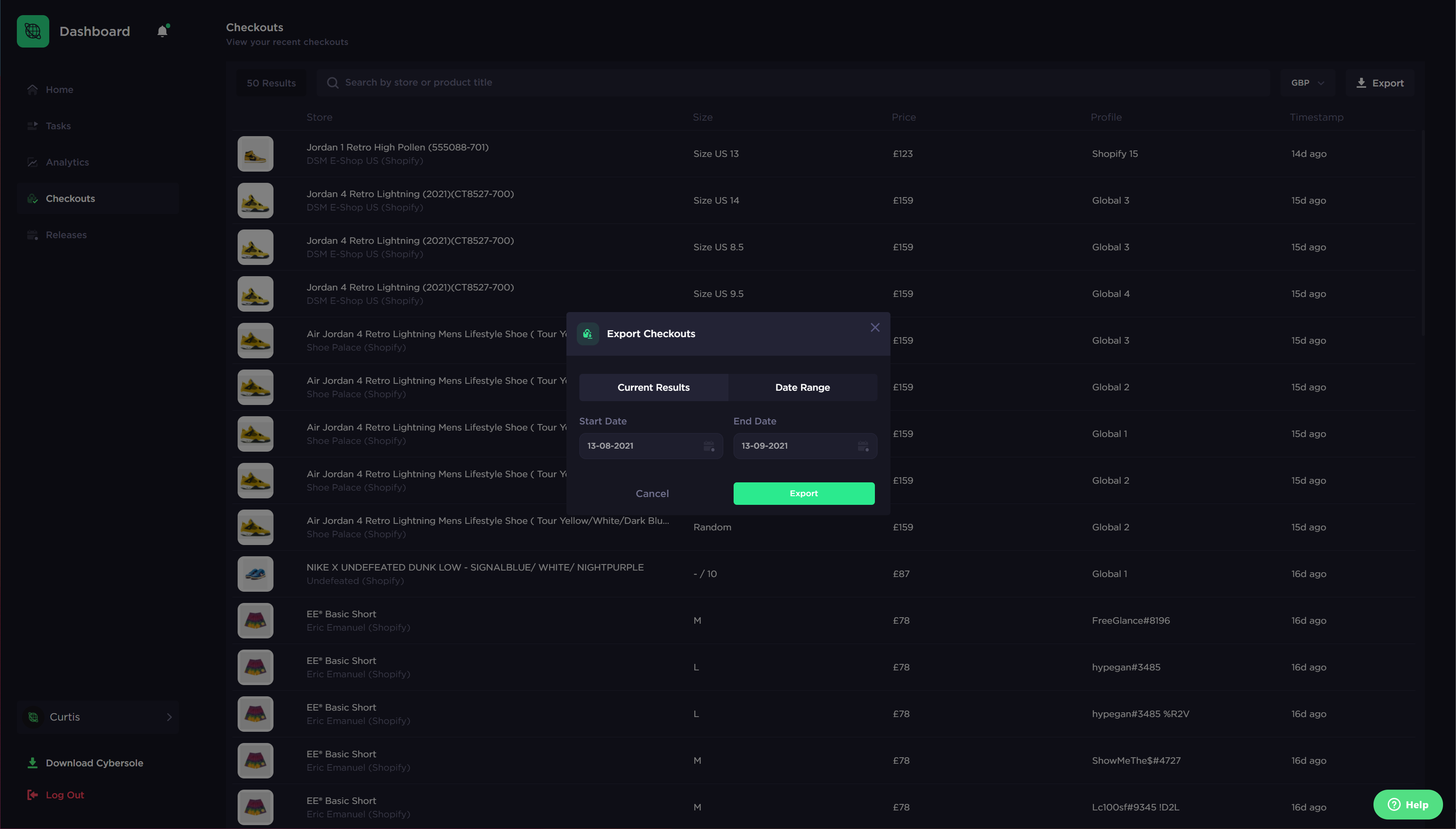 Releases
The final page on the User Dashboard is the release calendar, here you can view all upcoming releases on a weekly basis as well as view details on the release such as tips, site lists, keywords and more.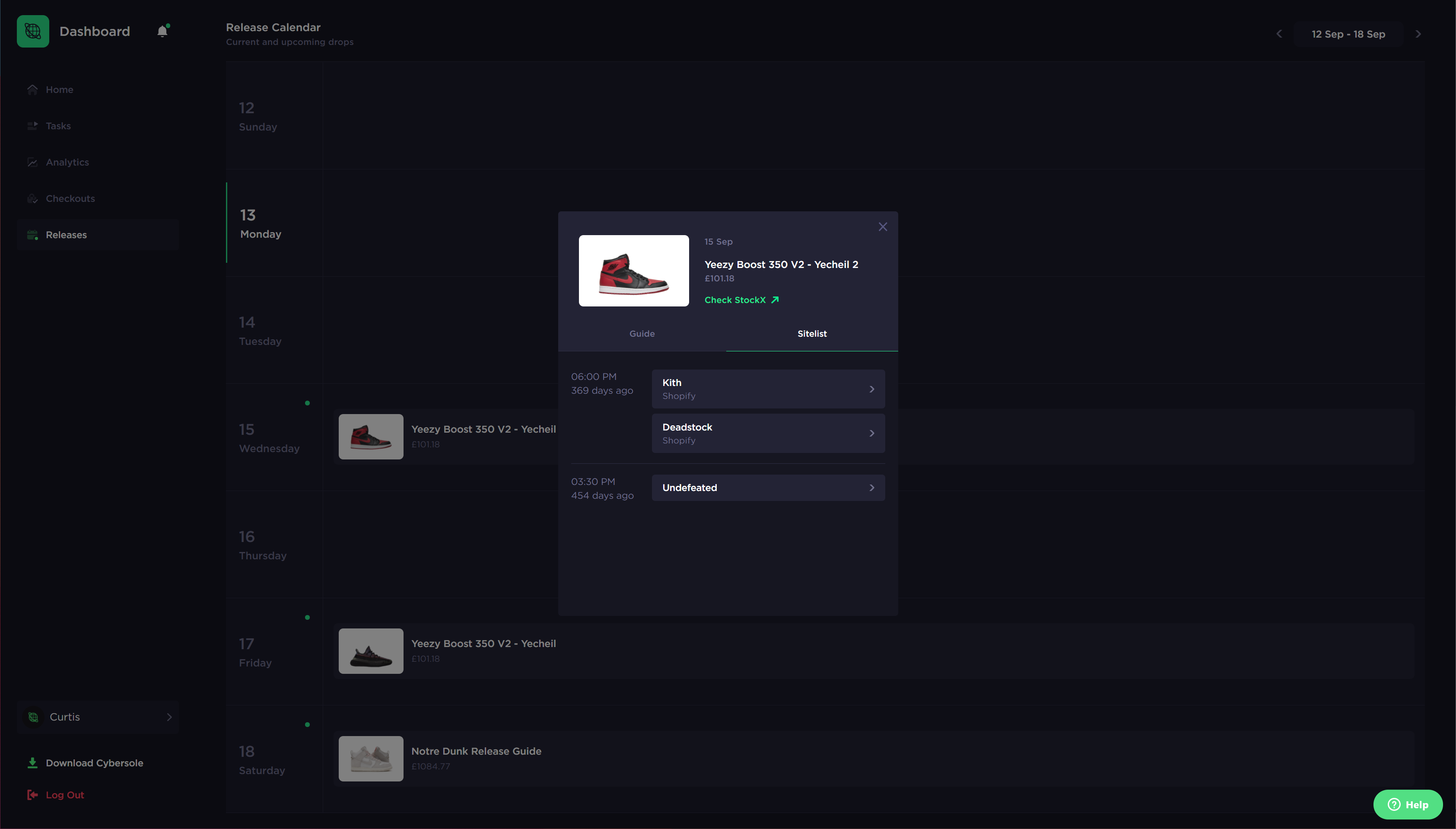 API Keys
As mentioned previously in this documentation you can view and edit your API keys via the Account page on the User Dashboard. You can create API keys to allow third-party applications to access sensitive data and give you access to an infinite number of options, once you click create you will be presented with a list of permissions you can grant that specific API key, for more details we recommend you read the developer documentation located here [DOCUMENTATION COMING SOON]. Please only use API keys in applications you know and trust. Cybersole Ltd cannot be held responsible for any malicious usages.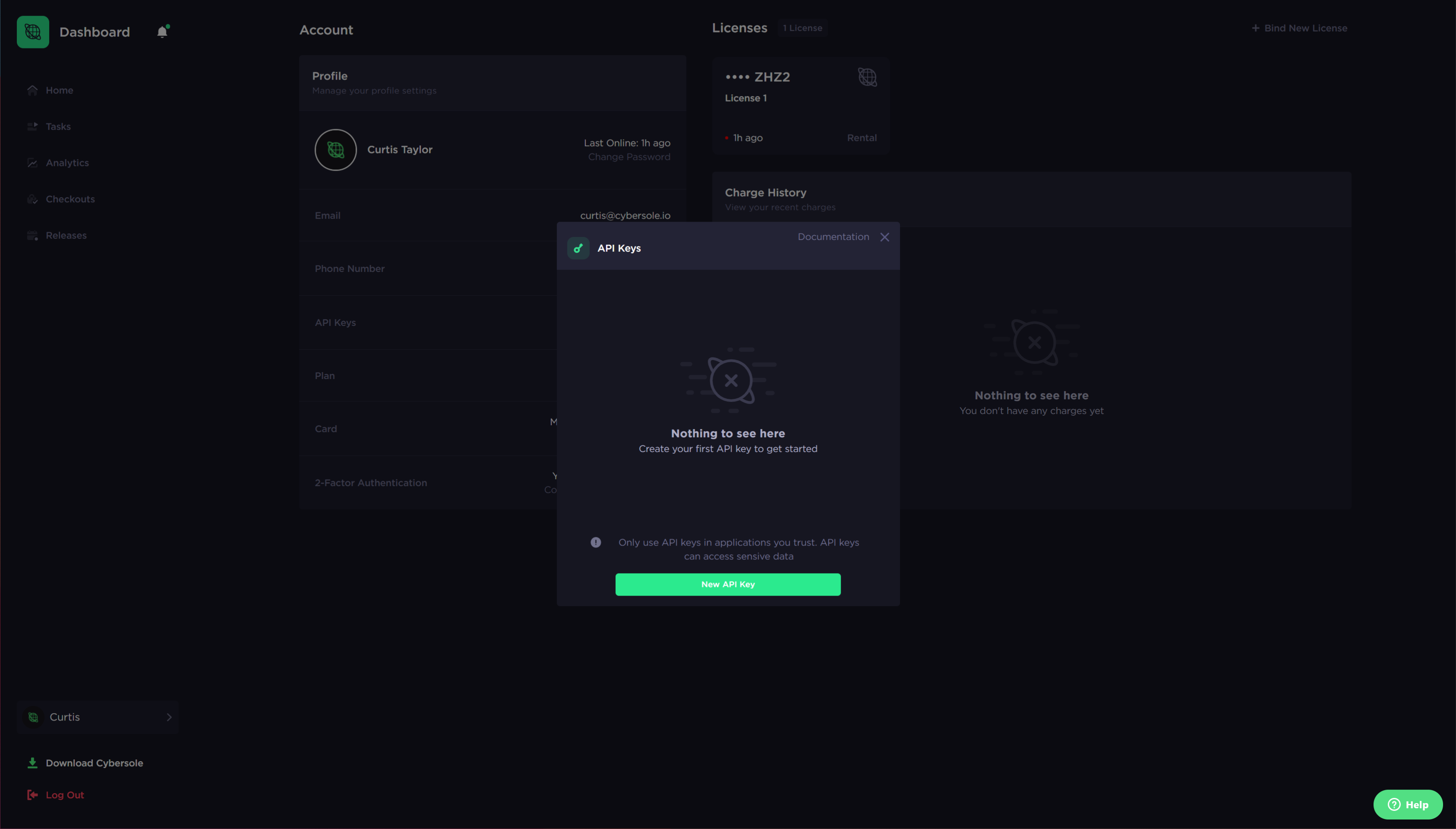 License Key Management
Inside the Account page you will be able to basic commands for your license key(s) remotely such as resetting the license key so it can be used on another device. If you hover over one of your license keys you will see three icons appear, the first of which resets your key as mentioned above, the second copies your license to your clipboard so you can easily paste it and the last icon will show advanced settings. On the advanced settings pop-up you will be able to view the license history (Such as when it was last activated/deactivated), rename your license key for convenience, shuffle the key (This replaces your license key for security) and even allows you to rent out your key privately to another individual by setting your own time-limitations; Putting you in full control without the need of any third-party rental markets.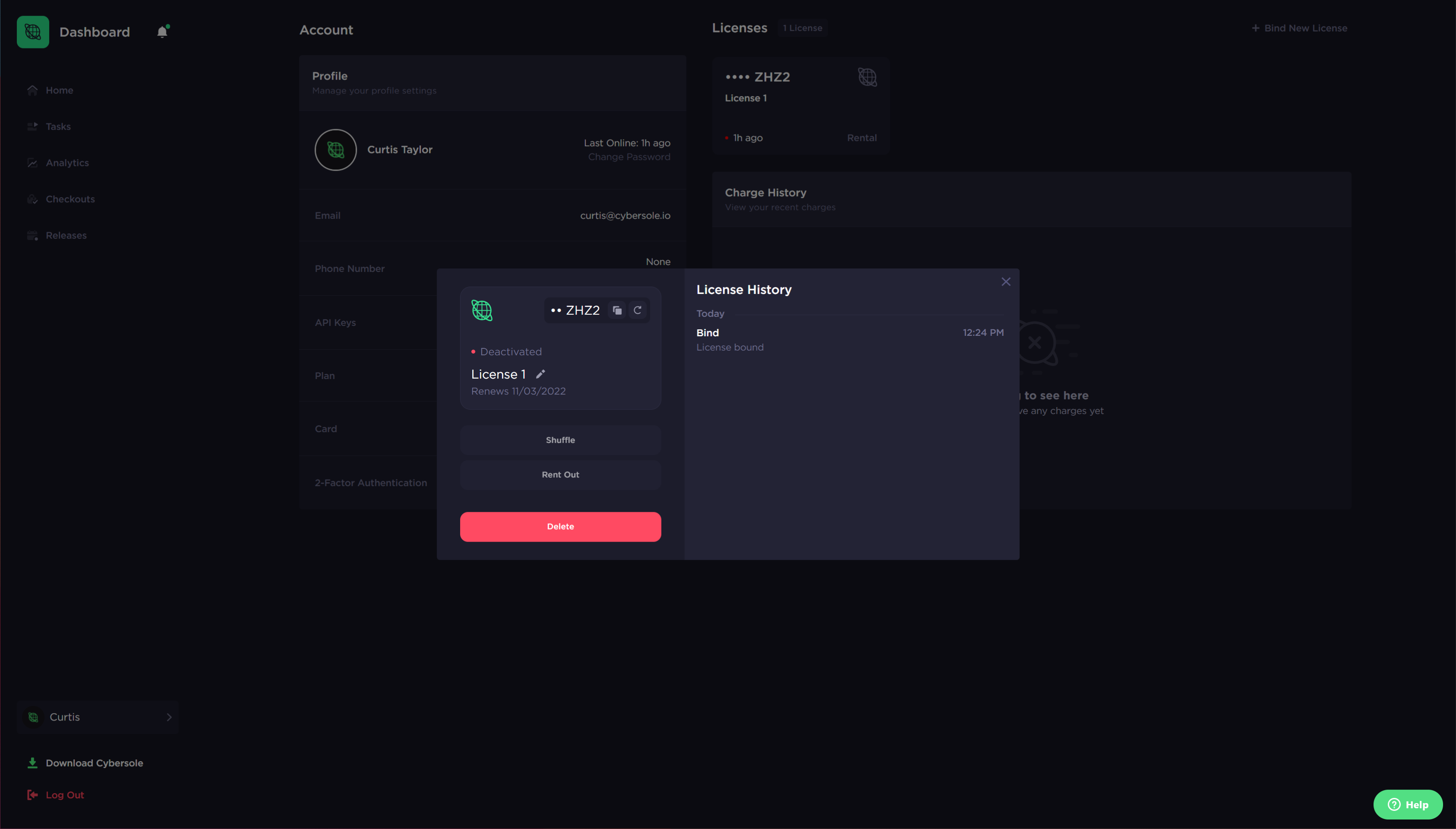 Activation/Deactivation
To activate your Cybersole license key you will firstly need to bind it to your account via the Account page then proceed to launching Cybersole on your computer or server, logging in and then selecting the appropriate license key to activate. To deactivate simply click "Log out" inside Cybersole itself or click the "Reset" icon on the Account page on the specific license key you wish to reset.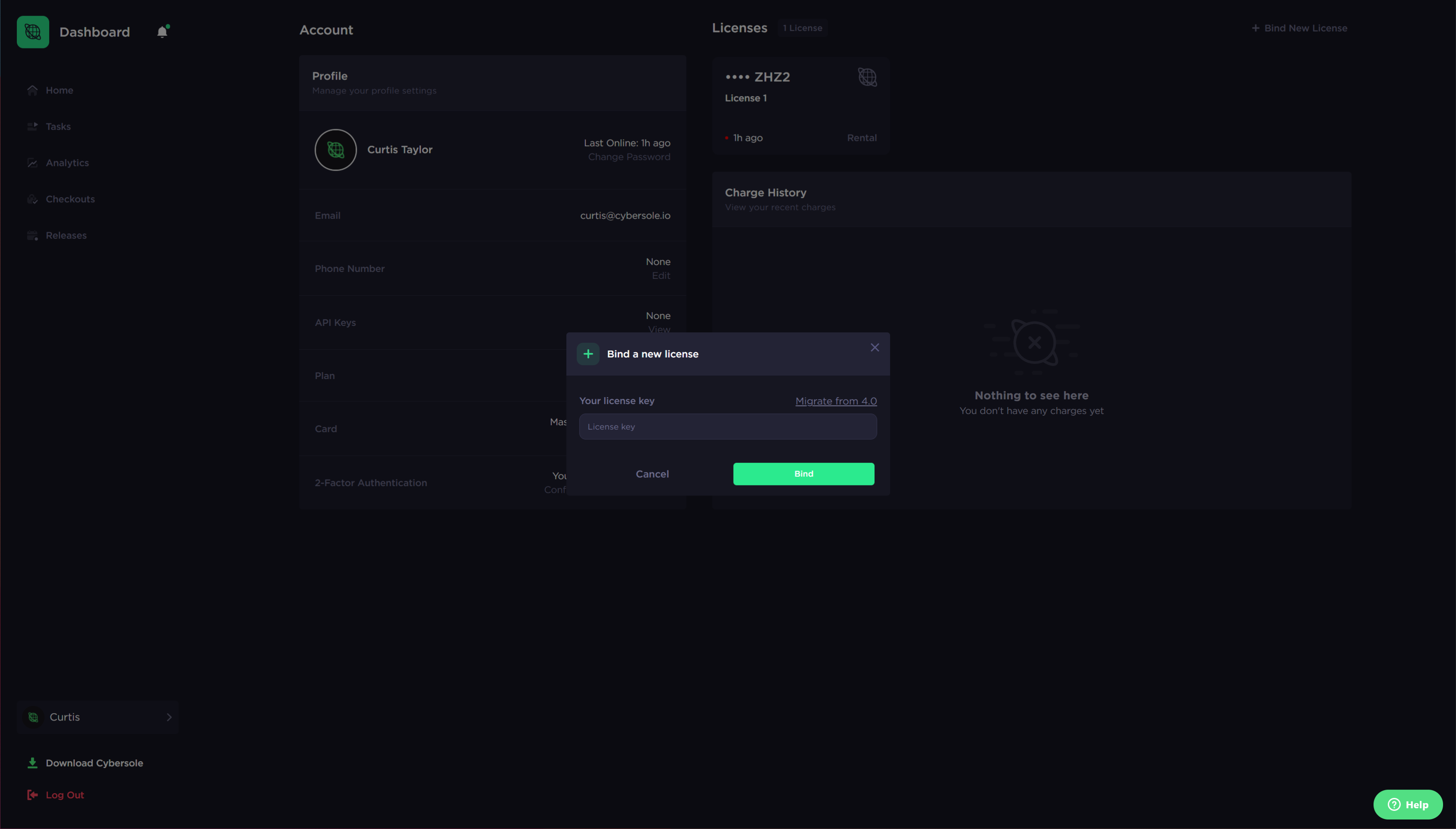 Renewing
Your Cybersole license key will renew automatically on the renewal date, you can find this date via the Account page on the User Dashboard. If your renewal payment fails there will be another 3 attempts until the license key is put on pause, after 30 days has passed there will be another attempt to renew your license key following the same pattern as above; In essence this means you can "pause" your subscription by allowing the payment to fail and then renew the following month if required. This will continue indefinitely; Your license key will never be terminated or deleted due to a failed payment. You will automatically receive an email a few days prior to the attempted charge to warn you of the upcoming payment, you will also receive an email confirming the payment being successful and/or failing. If you're coming from an existing 4.0 based license key you will not need to renew until your existing subscription expires, once your existing renewal date is reached the normal billing process outlined above will take over.
Rentals
To rent out your Cybersole license key safely and securely without any third-party involvement you'll need to launch the Account page, hover over the license key you wish to rent out and then select the settings icon. Select the button titled "Rent Out", input the email address of the individual you wish to rent your Cybersole license key to and then select the duration. During this period, you will not be able to access the license key nor will you be able to reset or unbind.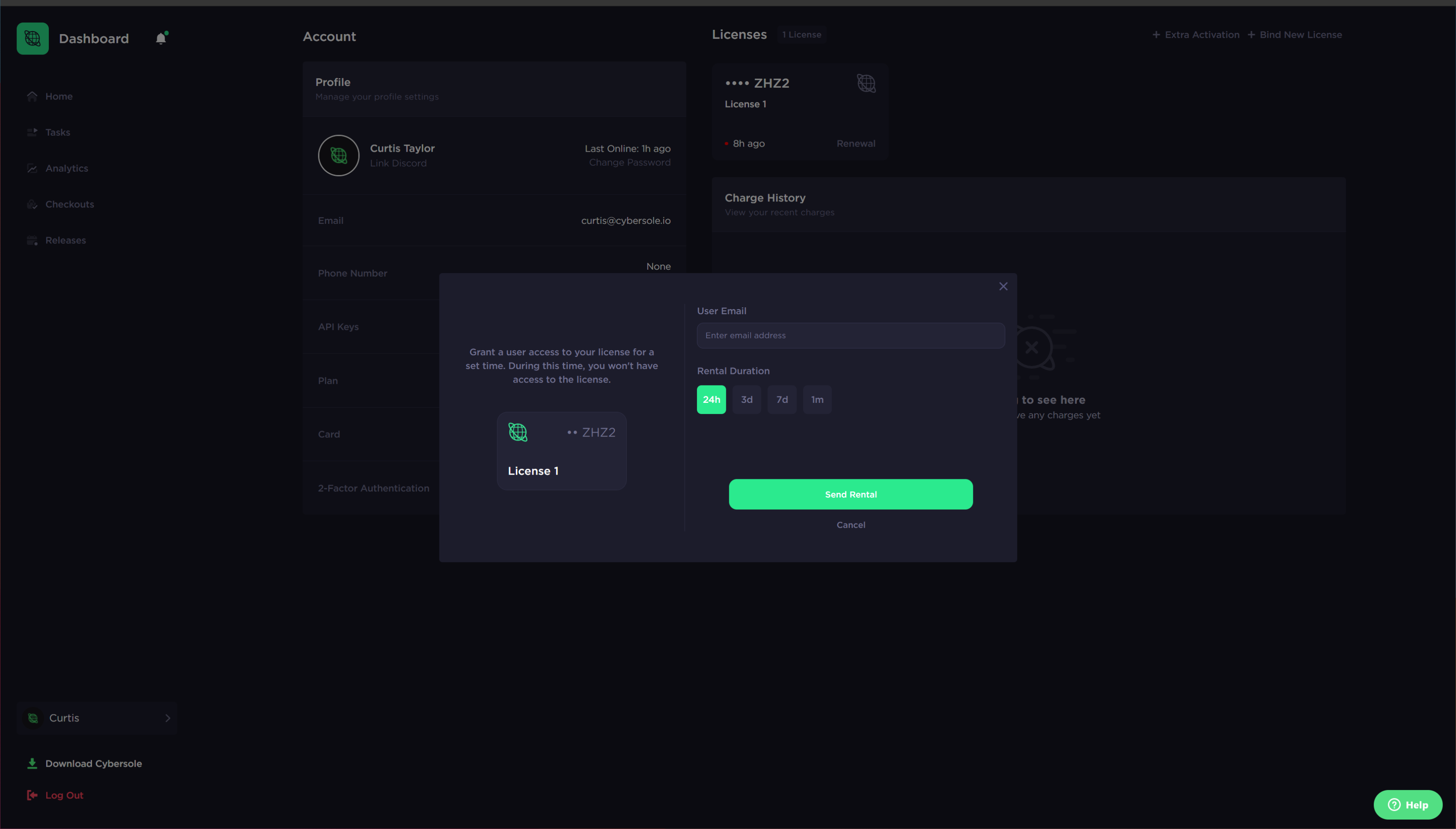 Unbinding
To unbind a license key from your Cybersole account you will need to navigate to the Account page then click the license key you which to unbind and then tap the "Delete" button. This action can not be undone, the only way to re-bind the key back to your account is by clicking the "Bind New License" button on the same page.
Shuffle
You can shuffle your license key for a small fee of £15.00 GBP anytime you desire by going to the Account page, hovering over the license key you wish to shuffle and then tap the settings icon. Here you will find the "Shuffle" button, once you've clicked this you'll be able to confirm your purchase before your new license key is issued.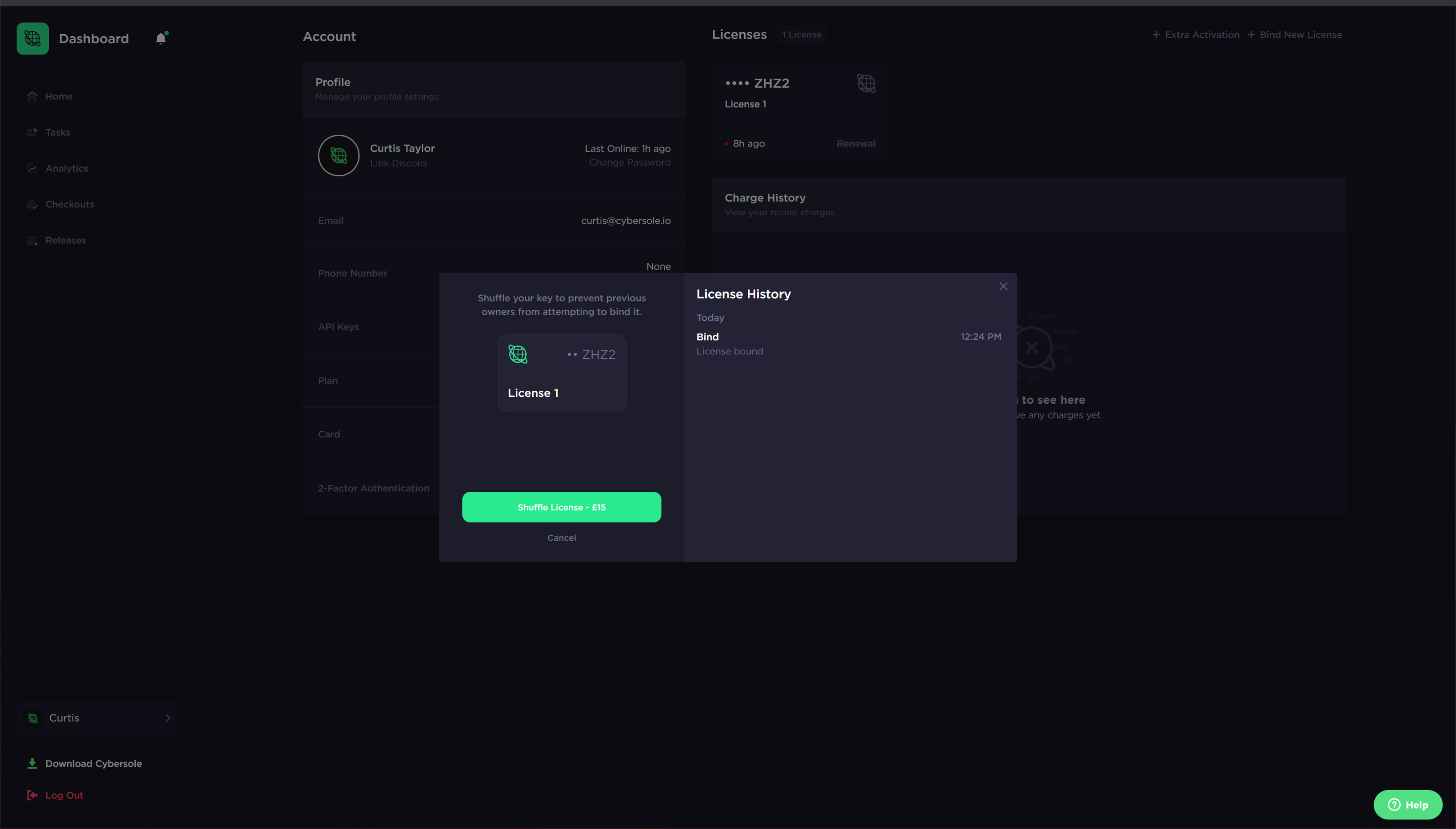 Extra Activations
To purchase additional activations simply navigate to the Account page and select the "Extra Activation" button, this will bring up a pop-up that will allow you to set the length of your additional instance of Cybersole. Once the duration has passed your instance will automatically be terminated, and you may only have 2 extra activations at any given time.